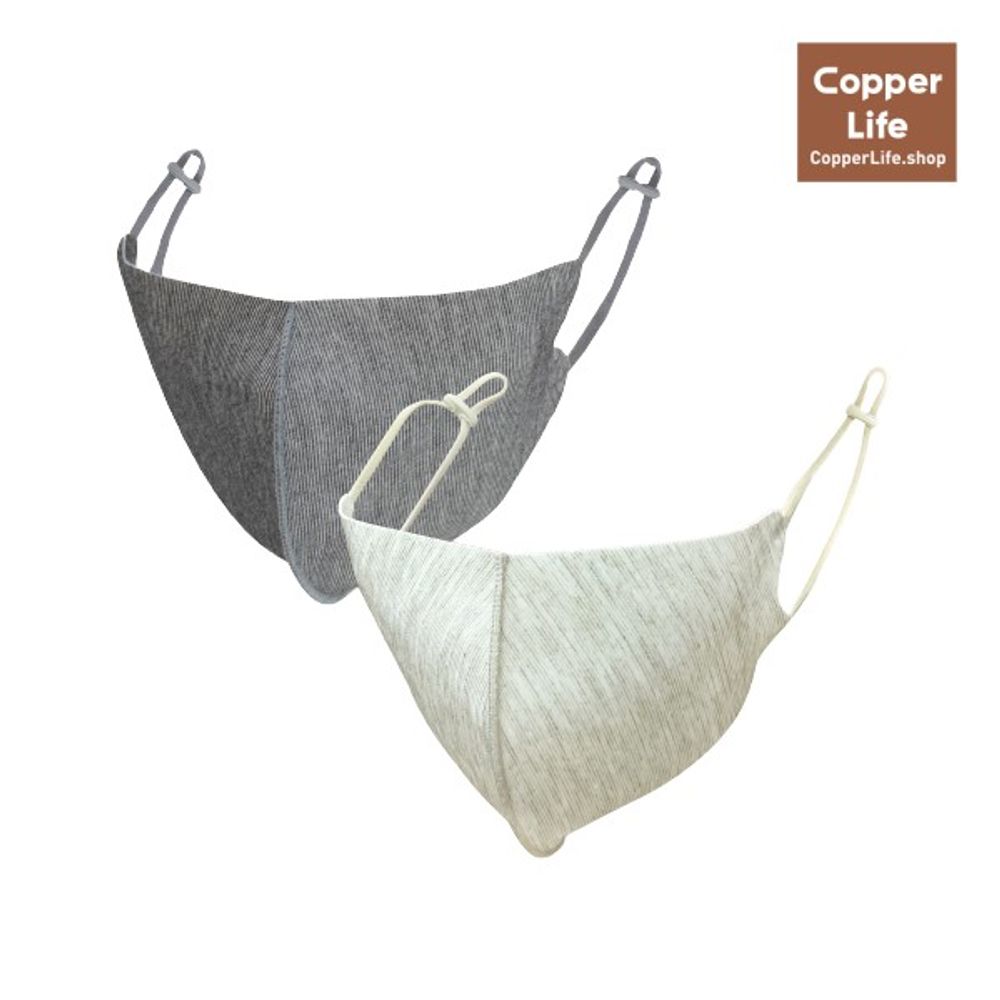 [Copper Life] Antibacterial Copper Fabric Summer Face Mask _ Odor-free Comfortable breathing Antimicrobial Washable Reusable Face Mask _ Made in KOREA
USD $4.30
USD $13.00
-67%
Negotiable (specific conditions to required)
House Brand available (OEM, ODM, OBM)
Dropshipping available
---
Seller information

Copper Life / 카퍼라이프
South Korea
Premium Partner
Product Description
- The Copper Woven Fabric Mask is the perfect solution for those who want to stay protected against germs, bacteria, and odors. Made with a blend of pure cotton and copper woven fabric, it provides both comfort and durability, ensuring that you can wear it all day without any discomfort.
- The copper fabric used in this mask has natural antiviral, antibacterial, and deodorizing properties that make it an effective barrier against harmful germs and bacteria. With its added moisture-wicking capabilities, you can stay cool and dry even in hot, humid conditions.
- Perfect for flu season and other times when you need extra protection, this mask is a must-have for your personal health and safety. The eco-friendly design of this mask means that you can feel good about your purchase, knowing that it is made with sustainable materials.
- And, with 100% domestically produced in South Korea, you can trust the quality and reliability of this mask. So, why wait? Keep a reserve of Copper Fabric Masks on hand for all your health and safety needs. Order now and experience the benefits of this functional and highly effective mask for yourself.
Always like new!
A new level of antibacterial power Copper Life
Safety mask for summer
Why Copperlife?
That mask I was looking for!
Experience the power of copper fabric with CopperLife masks.
Copper yarn with strong deodorizing properties effectively eliminates breath odor caused by bacteria.
Ergonomic three-dimensional design with a functional 'bird's beak' shape for a comfortable and secure fit.
Copper Life's multiple certifications for safety and quality, both domestically and internationally, instill trust in our products.
CopperLife masks maintain 99.9% effectiveness even after 100 washes, ensuring long-lasting use and functionality.
Double layer of Voltron copper fabric used!
As a result of researching with only the best quality in mind, both safety and functionality are verified!
Inside and outside double Voltron copper fabric
Bird's beak V FIT design, look classic with basic colors
Mono gray anytime, anywhere, in any outfit
Stick to the basics for maximum comfort.

Bird's beak-shaped three-dimensional design and sturdy durability provide comfortable breathing that won't stick even when exercising
Lightweight, moderately elastic earrings that won't cause discomfort in the ears.
Silicone adjustment stoppers for a custom fit.

Say goodbye to the skin issues caused by disposable non-woven masks and switch to Copperlife masks for a healthier alternative.
Skin-hypoallergenic premium fabric! Use with confidence with functional copper fiber
Bad breath BYE
Powerful deodorizing effect for maximum comfort
With copper's original deodorizing function, there is no need to use an antibacterial patch~ Block odor sources by killing bacteria!
Always like new!
Amazing functionality that lasts even after 100 washes
Excellent breathability Quick droplet drying refreshes even if worn for a long time
Stick to the basics for maximum comfort.
Experience superior breathability with our summer-optimized mask. Its 3D structure eliminates suffocation and discomfort!
30 years of fiber technology expertise and 100% handmade domestic production ensure the finest attention to detail

SIZE INFO / unit: cm

| Size | width | and height | string length |
| --- | --- | --- | --- |
| Medium | 10cm | 13.5cm | 20cm |
| formation | 11cm | 14.5cm | 20cm |
- The horizontal length of the face part must be X2 in the horizontal size to get the entire horizontal dimension of the mask.
- There may be an error of ±0.2cm for each size.
Specifications
Product Name: Copper Life Mask Summer
Color: Grey, Beige
Size : Medium:10cm X 13.5cm / Large:11cm X 14.5cm (±1) - See detail page
Material : 81% polyester / 2% acrylic / 17% spandex
Manufacturer & Sales Agency : C&Tidrim / Made in Korea
Customer Service : +82 32 - 676 - 4163
Warnings
· Do not use chlorine-based bleach (ex lax).
・Use mild detergent in lukewarm water below 30 degrees Celsius and hand wash alone for a short time.
· When using the washing machine, be sure to use the washing net to wash with cold water/wool course wool shampoo.
· Due to the nature of the fiber, it is vulnerable to hot heat, so do not wash it at high temperatures or use the dryer.
· Please note that fluff may be caused by friction during washing and use.
· For dark colors, please wash them separately from other products.
· After the use and washing of the product, it is difficult to exchange and return.
· Due to the nature of the product, it may have a smell inherent in copper
・Due to the nature of the material, there may be an error in the measurement size
Depending on the monitor and mobile resolution, there may be differences from the actual colors.
This product can be compensated in accordance with the consumer dispute resolution standards notified by the Fair Trade Commission.
<Copper Life Product Electromagnetic Blocking>

*Prevents static electricity in Copper Life products*
<General Products> <Copper Life Products>