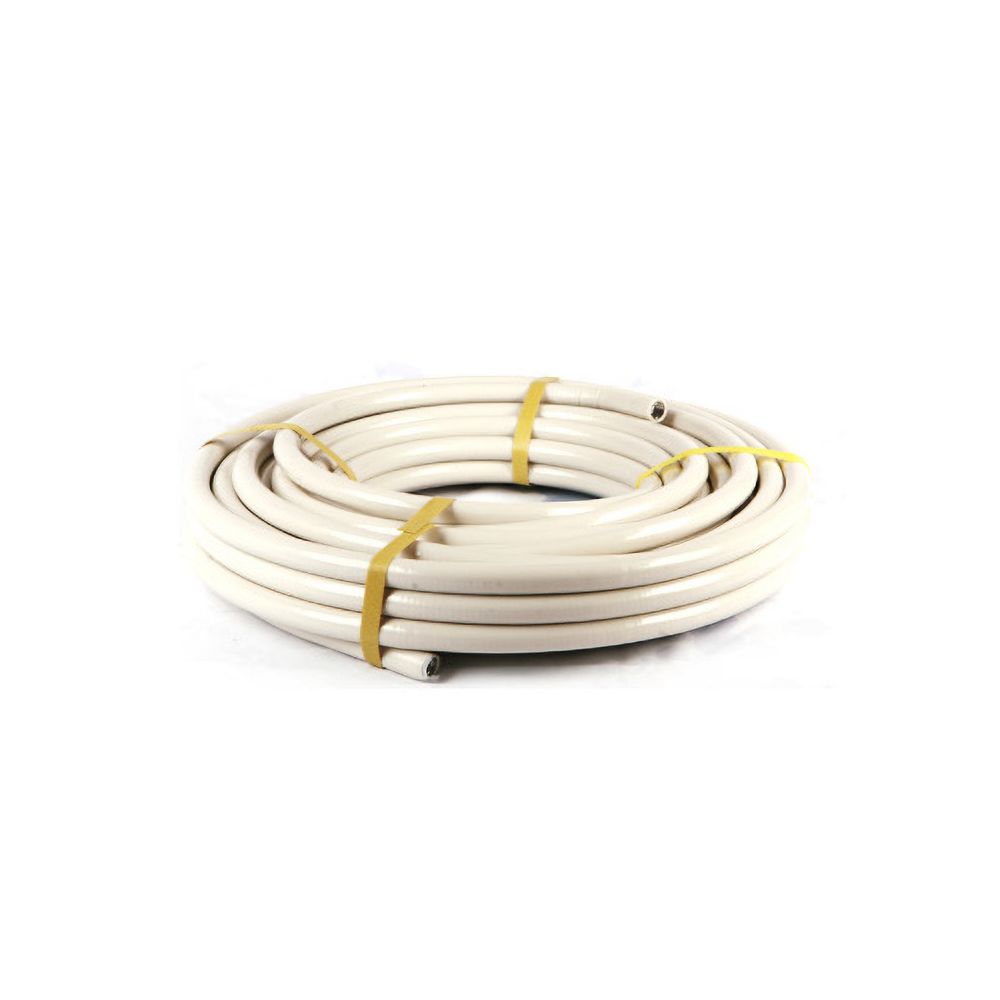 Samsung Flex Fan Coil Tube Air Conditioning Unit Heat Exchanger Tube Heat Transfer Device Stainless Steel Foam Double Coated Corrugated Pipe_Medi in Korea
Negotiable (specific conditions to required)
Product Code:
corrugated tube5
House Brand available (OEM, ODM, OBM)
Dropshipping available
---
Seller information

삼성플렉스
South Korea
Premium Partner
Product Description
Samsung flex corrugated pipe connector parts tube air conditioning unit heat exchanger tube heat transfer device corrugated pipe fixture saddle stabilizer for fan coil
Stainless steel corrugated pipe connector Accessories for connecting and fixing corrugated pipes
Using a tube corrugated tube for fan coil, heat exchange is used as a heating and cooling device
Heat exchanger A device that increases heat transfer using a corrugated tube
Corrugated pipe fixation Birds Parts that prevent bending and vibration of corrugated pipes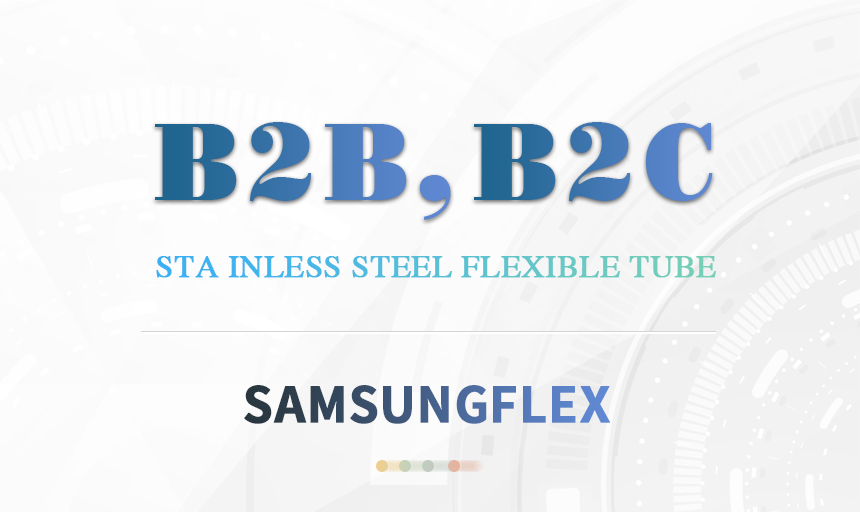 If you have any questions about purchasing Samsung Flex products, please contact us by email, such as price and quantity, and we will let you know. If you are a B2B or B2C member, you can enjoy even more special benefits. If you would like to make a purchase, please contact us by clicking on the email below. We will be happy to advise you quickly.
cs@roaexpo.com
Foaming double cloth corrugated pipe
Primary foam coating, secondary coating
Samsung Flex Corrugated Pipe Co., Ltd. is a very excellent product as a pipe for constructability, forgery, economy, and safety. Based on 20 years of technology, we have made thorough inspections from the production stage and products suitable for customer needs so that customers can safely trust and use them.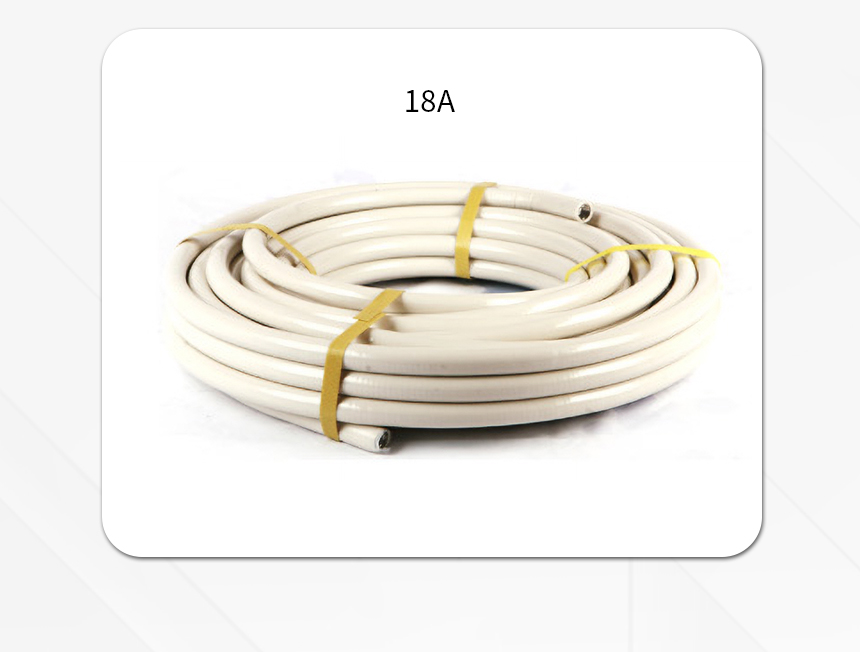 Characteristics and advantages
Stainless steel is an odorless, non-toxic material, and its corrosion resistance has a much longer service life than general metal steel. (A passivant film is formed, so it has good corrosion resistance)
It is made of stainless steel 304 and 316L materials, and it is a hygienic pipe that is harmless to the human body without contamination due to corrosion (red water, white water).
It is convenient to construct, and compared with other metal intuitions, construction costs are reduced due to minimization of connecting parts and simple shaft of the construction machine.
It has excellent flexibility and elasticity that is resistant to axial stress, so it is suitable as a pipe for anti-freeze and earthquake measures.
Since it can be bent freely without additional tools, it is easy to work with piping in small places, the working time is shortened, and there is almost no risk of leakage due to the use of less connecting parts.
Since it is molded into a wrinkle shape and has a high water absorption rate of the tube itself during thermal expansion, it is resistant to external pressure and shock caused by expansion, so there is no risk of defects such as material deformation and destruction.
Since the oxidation scale is not pinched, the thermal efficiency is consistently high.
Since the surface is corrugated, the heat dissipation is about 40% higher than that of the straight tube, so the heat exchange effect is excellent.
There is no heat-induced hardening phenomenon in plastic pipes, so it has a long service life.
use
There are many uses such as water supply pipes (drinking water, groundwater), hot water supply pipes, heating pipes (floors, radiators), gas distribution pipes (LPG, LNG city gas), mechanical equipment pipes (general machinery, food machinery), wire pipes, steam pipes, air pipes, oil pipes, pipes for heat exchangers, pipes for various sanitary appliances, etc., and the scope of use continues to expand, such as homes, offices, factories, apartments, ships, automobiles, greenhouses, boilers, fish farms, etc.
Types according to shape
Annular corrugated tube
- It is easy to bend and absorbs expansion and vibration of the piping system, so it is suitable for water hammer, vibration and earthquake countermeasures.
- The connection hole is developed so that it can be constructed quickly and easily, shortening air and reducing costs
Spiral corrugated tube
- The shape of the mountain is spiral-shaped, which receives less resistance from the fluid than the annular type, but the connection method is more difficult than the annular type.
Types according to the process
Foaming double cloth corrugated pipe
- A product in which the heat-treated corrugated pipe is coated with P.E foam coating first, and a second coating is added on top of it, and coated with two layers of sheathing.
- The product has a thick coating to keep warm and resistant to external shocks and scratches. (Covering thickness 1.6mm)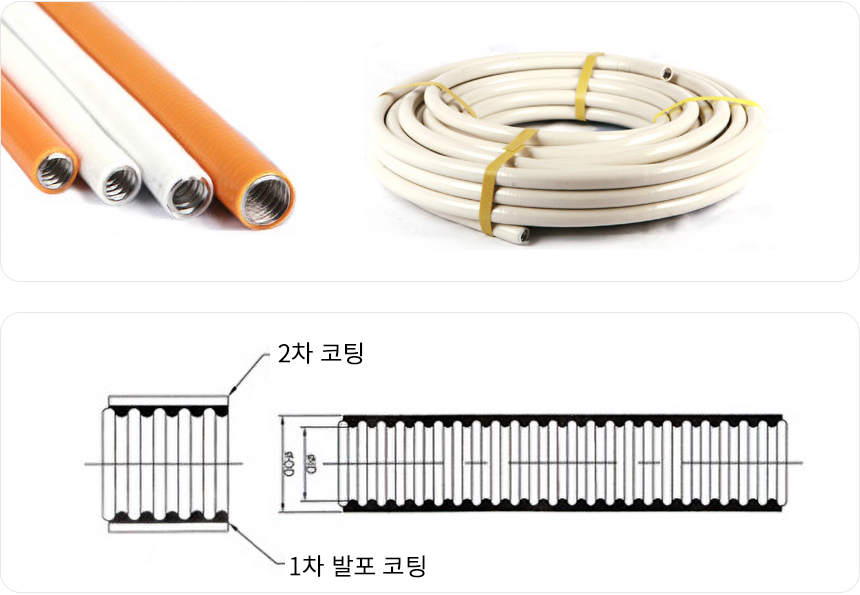 Foamed double corrugated pipe standard

| Nominal | Inner diameter (mm) | Outer diameter (mm) | Sheath (P.E)Thickness (mm) | Color |
| --- | --- | --- | --- | --- |
| 18A | 15.8 | 23.6 | 1.8 | Blue, yellow, white |
Products using corrugated tubes
1.Sterineless corrugated pipe connector
It is made of stainless steel corrugated pipe, which is hygienic and does not discharge corrosion and harmful substances, and can be conveniently used in small places such as water heaters, boilers, washbasins, toilets, and simple connecting pipes.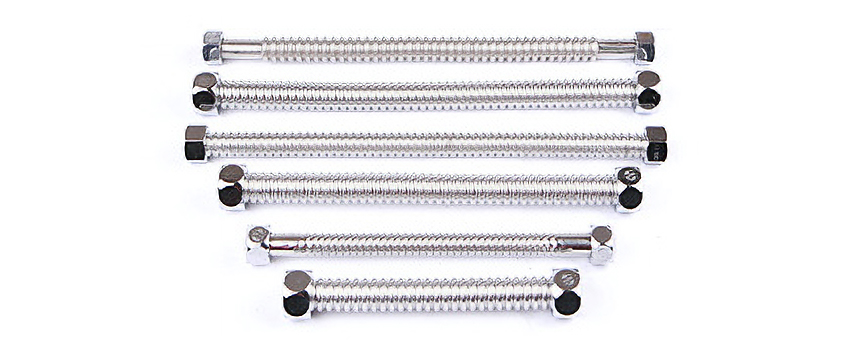 Stainless steel corrugated pipe connector standard
Standard
I.D(mm)
O.D(mm)
Standard length (mm)
8A
9.8
13.0
150, 200, 250, 300, 350, 400, 450, 500, 550, 600, 650, 700, 750, 800, 850, 900, 950, 1000
12A
12.0
16.0
18A
15.8
20.0
2.Tube for pencoil
The tube is covered with insulation material to improve the heat preservation and cooling effect, which can reduce the temperature loss of the fluid and is good for use in fan coil units or exposed pipes in winter. In addition, a ring for preventing detachment is applied so that it can be used more safely even at high pressure.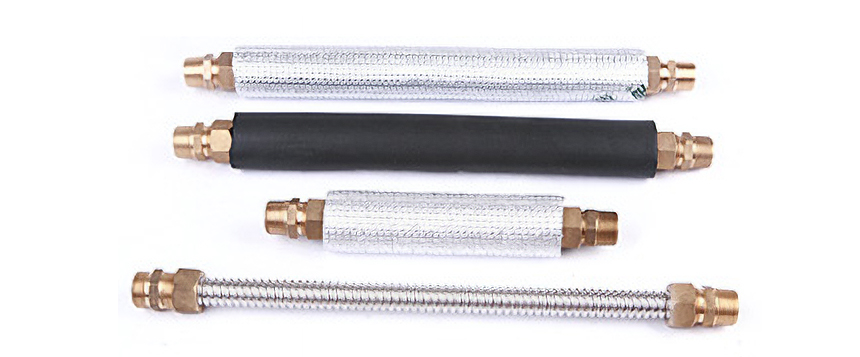 Tube specifications for pencoils
Standard
I.D(mm)
O.D(mm)
Standard length (mm)
15A
12.0
16.0
150, 200, 250, 300, 350, 450, 500, 550, 600, 650,700, 750, 800, 850, 900, 950, 1000
20A
15.8
20.0
3.Heat exchanger tube
The large surface area of the corrugated tube has an excellent heat exchange effect compared to the straight pipe, and the wrinkle shape can prevent shrinkage, expansion and cracking due to shock, and stainless steel material has excellent corrosion resistance, long service life, and various dimensions, so it is suitable for application to heat exchangers and secondary battery tubes.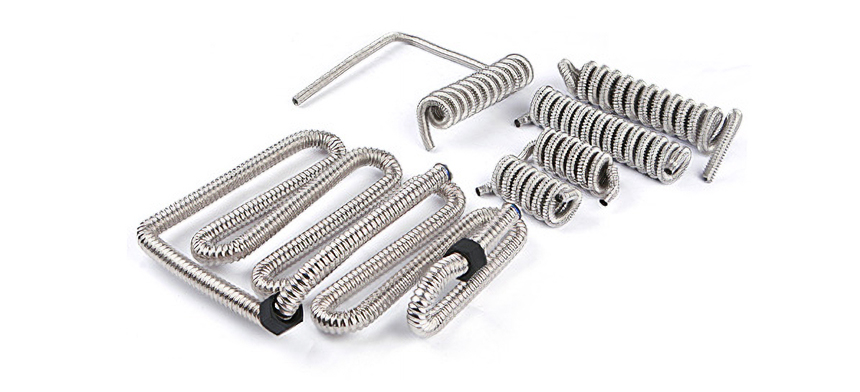 4.Corrugated tube fixation
- It is made of STS304 spring steel wire and has a strong holding force.
- The material is STS304, which is suitable for fixing pipes that require corrosion resistance.
- It is inserted into the groove of the pipe to be fixed, so that the pipe does not move in a straight line.
- Suitable for intuition, especially for fixing corrugated pipes.
* Type: 15A, 20A, 25A, 32A