[BEAUUGREEN] Soothing Moisture Emulsion_Skin Care, Toner, Moisturizing, Sensitive Skin, Dry Skin, Hyaluronic Acid, Allantoin, Nutrition, Soothing, Whitening Effect_Made in Korea
USD $26.09
USD $34.78
-25%
Product Code:
BEAUUGREEN_49
House Brand available (OEM, ODM, OBM)
Dropshipping available
---
Seller information

beauugreen/뷰그린
South Korea
Premium Partner
Product Description
[BEAUUGREEN] moisture emulsion
- BEAUUGREEN Moisture Emulsion provides elasticity and nourishment at the same time with a double moisturizing effect.
- Key ingredients include Meadowfoam seed oil and shea butter, which helps prevent moisture loss and maintain skin health.
- The product is non-irritating and contains no mineral oils, talc, parabens or animal-derived raw materials.
- The steps of use are followed by Soothing Skin Toner, Moisture Emulsion, Intensive Serum, and Vitalizing Cream.
- Moisture emulsion can be used for pre-makeup or evening moisturizing skincare, or as a sleeping pack if you have sensitive and red skin.

With a double moisturizing effect
Elasticity and nutrition at the same time!
BEAUUGREEN Soothing Moisture Emulsion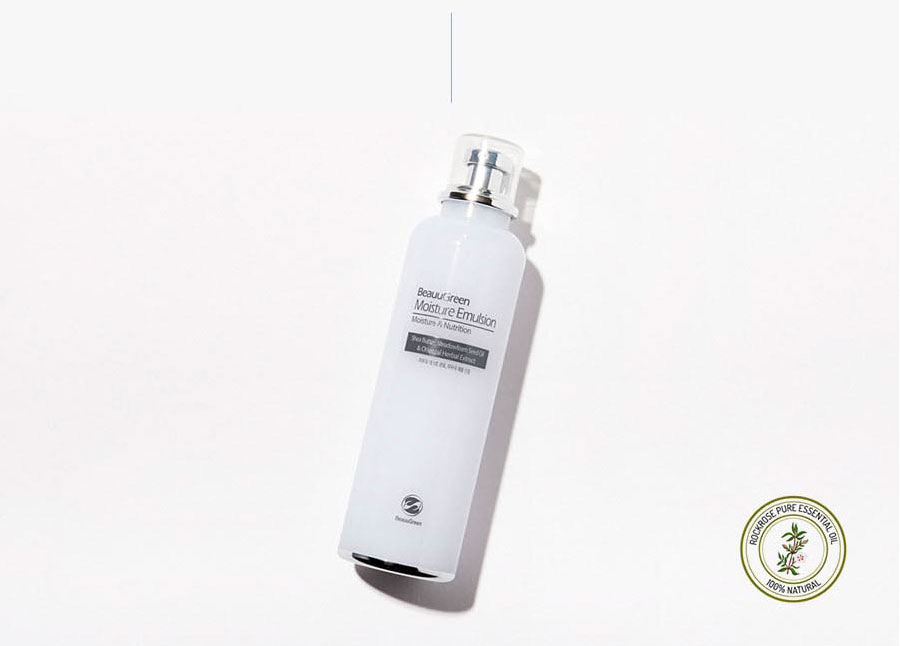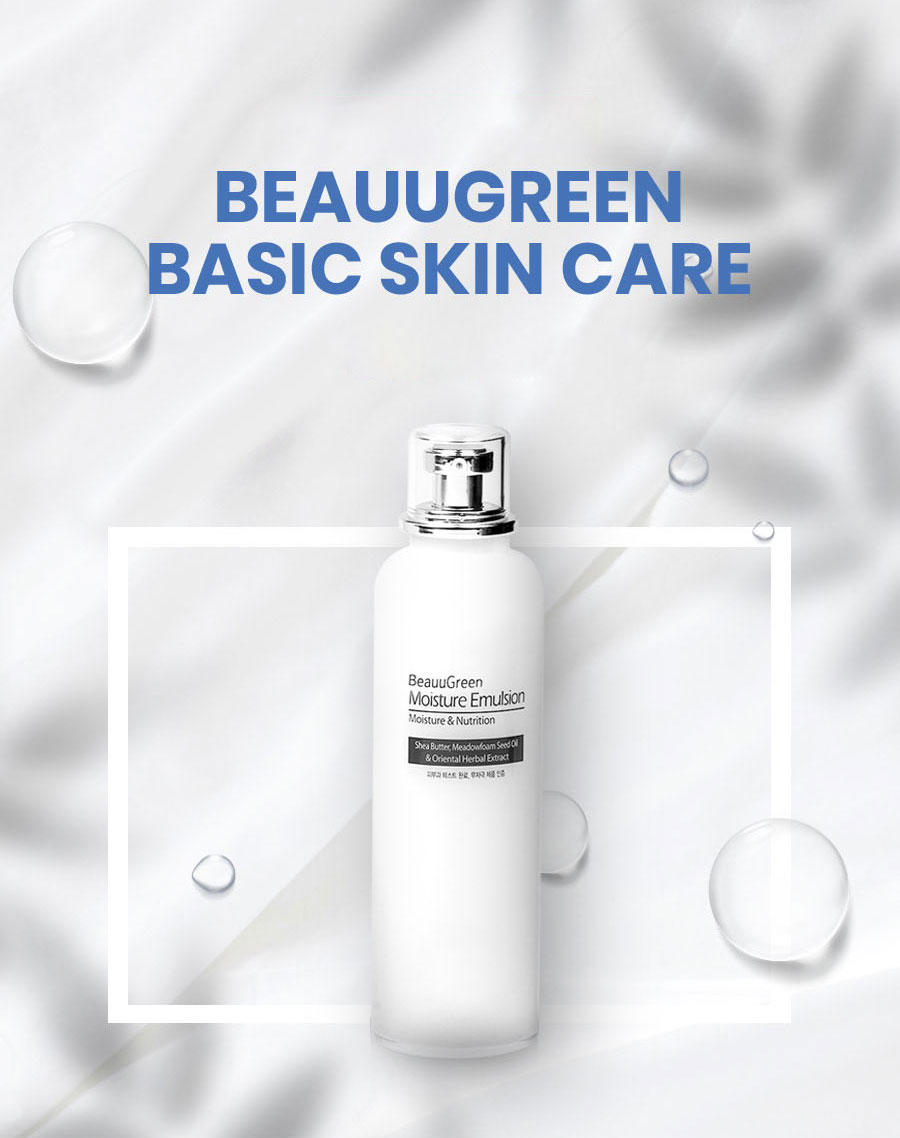 Basic skincare that delivers moisturizing, nourishing, and whitening effects at the same time with a single use
BEAUUGREEN Moisture Emulsion
Beaugreen Moisture Emulsion contains Meadowfoam seed oil to prevent moisture loss and keep skin healthy and smooth, and shea butter double-moisturizes to maintain elasticity and nourish skin.
(120ml/4.06fl.oz)
THE MAIN INGREDIENTS OF BEAUUGREEN SOOTHING MOISTURE EMULSION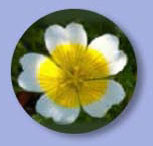 Meadowfoam seed oil
Natural tocopherols help prevent skin oxidation and smooth the skin's surface. It forms a moisture barrier on the skin to prevent dryness and helps to take care of dead skin cells.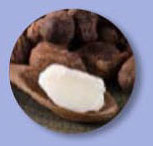 Shea Butter
As a plant-based natural moisturizing ingredient, it has the effect of anti-aging, moisturizing, soothing, nourishing, relieving damaged skin, and relieving skin.
Certified non-irritating product Dermatologist tested
No mineral oils, talc, parabens, animal-derived raw materials!
Hydrating and nourishing
AIRLESS DOUBLE CONTAINER PREVENTS OXIDATION OF PRODUCTS
Honey combination to make your skin look beautiful,
If you use it together, the effect UP!

STEP.01
Soothing Skin Toner
STEP.02
Moisture emulsion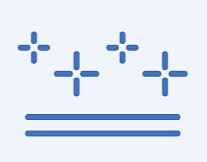 STEP.01
Exfoliate with toner
After cleansing, cleanse skin texture with BEAUUGREEN Soothing Skin Toner.
STEP.02
Moisturizing with double moisturizing
Apply an appropriate amount of BEAUUGREEN moisture emulsion to the palm of your hand and spread evenly over the entire face to recharge the nourishment.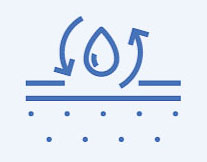 STEP.03
Moisture retention UP!
Apply BEAUUGREEN Intensive Serum evenly to maintain the skin's remaining moisture and nutrition for a long time. Gently pat your palms around your face to allow the nutrients to penetrate your skin.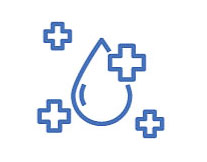 STEP.04
Special care for nourishing skin
If your skin is feeling dry and tired, finish with BEAUUGREEN Vitalizing Cream. Reapply mainly to areas that feel dry or need moisture. Rub your palms together to warm them up, then wrap them all over your face and let them absorb.
BEAUUGREEN Moisture Emulsion
Use it in this case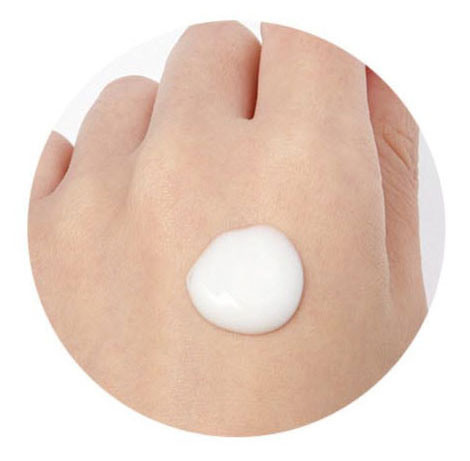 1
The formula is easy to slip and can be used both in the morning as a pre-makeup step or as a moisturizing skincare in the evening.
2
On days when your skin is sensitive and red, cool the product a little and apply generously to your face to use as a sleeping pack.