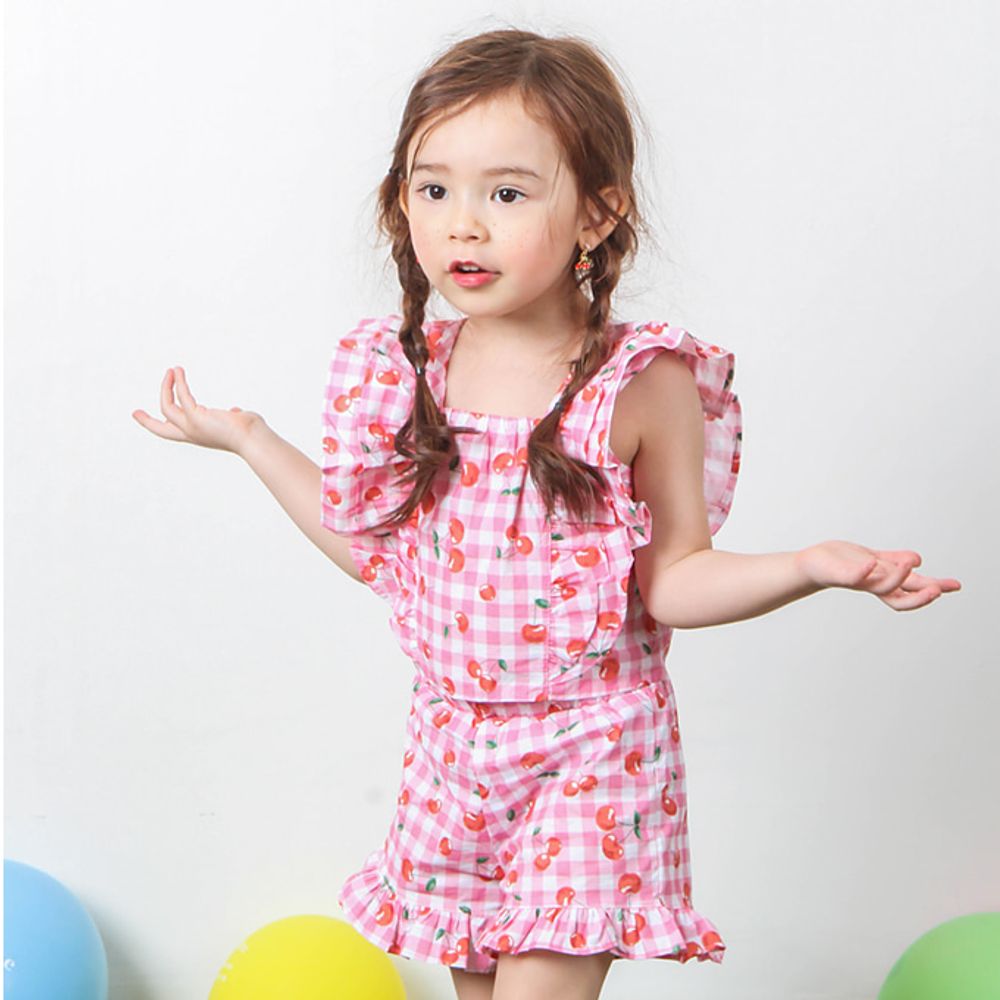 [BABYBLEE] D21233 _ Tok tok Cherry Top and Bottom Set, Girls Blouse, toddler short sleeveless shirt, Girls Shorts, Cotton_ Made in KOREA
Negotiable (specific conditions to required)
House Brand available (OEM, ODM, OBM)
Dropshipping available
---
Seller information

베이비블리/BabyBlee
South Korea
Premium Partner
Product Description
$73.92 -->

$42.61 (42% OFF)
Cotton 100% / XS-age 0~1Y, S-age 1~2Y, M-age 3~4Y, L-age 5~6Y, XL-age 7~8Y
-This is a cool girl's top and bottom set with a clear color tone on the check. ^^
-It is a look that exudes freshness with cherry printing. It comes in a short length, top style, shirtless blouse, skirt pants, and short pants.
-The top is bent at the front and back of the neck to hold the fit without floating. The big frill detail coming down from the shoulders has double shirring like wings to give details to make it look youthful and feminine.
-The bottom shorts also give details so that they are unified with the top with a big frill on the hem, giving it twice as cuteness~ The silhouette spreads to the A-line, so it gives the feeling of shorts but a skirt.
-It is recommended as an outing and recreational look with its popping cuteness. ♥
Made in KOREA, Designed by BABYBLEE
| SIZE |
[Top]
S - A.Shoulder strap 7.5cm / B.Chest 30cm / C.Total length 27.5cm
M - A.Shoulder strap 8.5cm / B.Chest 32cm / C.Total length 30cm
L - A.Shoulder strap 9.5cm / B.Chest 34cm / C.Total length 32.5cm
XL - A.Shoulder strap 10.5cm / B.Chest 36cm / C.Total length 35cm
[lower]
S - A.Waist 20cm / B.Base Length 18.5cm / C.Total length 22cm
M - A.Waist 21cm / B.Base Length 19.5cm / C.Total length 24.5cm
L - A.Waist 22 cm / B. Base 20.5 cm / C. Total length 27 cm
XL - A.Waist 23 cm / B. Base 21.5 cm / C. Total length 29.5 cm