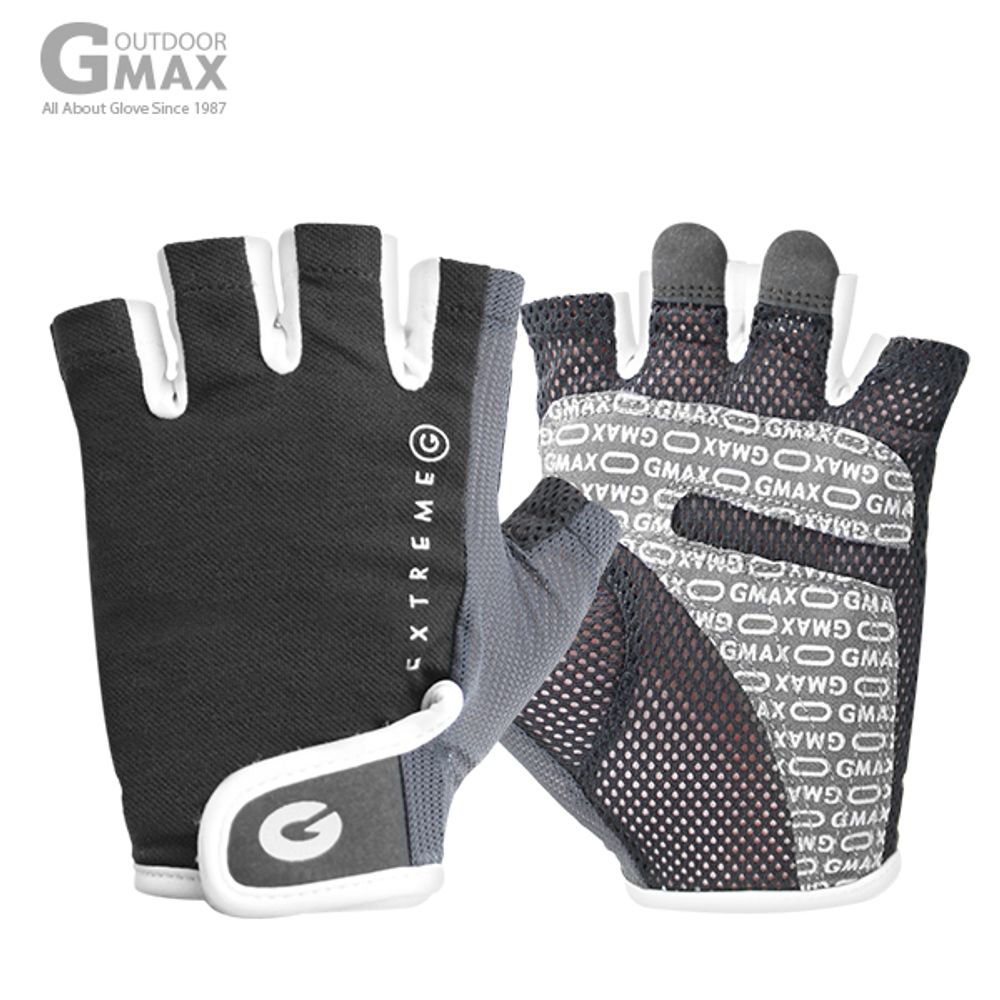 [BY_Glove] GMS10061 Gmax Brand New Outdoor Half Finger Gloves, Mesh material to absorb sweat and improve ventilation, and silicone patch prevents slipping.
Negotiable (specific conditions to required)
House Brand available (OEM, ODM, OBM)
Dropshipping available
---
Seller information

범양글러브
South Korea
Premium Partner
Product Description
GMS10061 Gmax brand new outdoor half-gloves
Gmax Brandnew Outdoor Gloves are multi-sports gloves that use patterns and high-end functional fabrics designed with Bumyang know-how. These gloves are comfortable with that perfect fit, making them suitable for all sports activities such as hiking, biking, and fitness.
The functional fabric applied to the back of the hand is breathable keeping you cool and fresh regardless of how long your activities are.
In addition, the palm part uses original sports silicone to protect the palm from friction and impact, and prevent slippage, The wrist belt is easy to remove even after a long and sweaty workout.
INFORMATION

| | | | |
| --- | --- | --- | --- |
| Product Name | Gmax Brand New Outdoor Gloves | Item number | GMS10061 |
| material | 3:1 mesh, Lycra, silicone, PE memory | Color | Navy, black, blue |
| Origin | Indonesia | dimension | Less than S, M, L/50g |
| Manufacturer | Bumyang Glove | configuration | 1 set of both hands |
Use of mash fabric, easy to ventilate and absorb sweat, comfortable wearing
Palm silicone coating protects hands, anti-slip
Finger tag, prevent finger tightening, and easy to take off gloves
Wrist velcro, easy to wear even when sweating
Do not dry, do not dry dryer, do not dehydrate, do not use bleach, do not use ironing
There may be errors depending on how the product is measured and some color differences depending on the monitor specifications.
Leather material
Leather products are non-washable.
To remove contamination, use a professional detergent and rub it lightly on a clean cloth.
Store in a windy place with low temperatures, and humidity.
Fabric material
Fabric products are washable products.
Use a mild detergent in lukewarm water and gently hand wash and air dry in a shady and airy place with low temperature and humidity.
Do not use chlorine-based bleach.
As a company that has passed the quality assurance test by the national accredited institution 'Korea Construction and Living Environment Testing Institute', it is a product that has passed through performance evaluation and stability evaluation.
This product has been verified for stability through testing by KATRI Korea Apparel Testing and Research Institute, and it is a product that has received KC certification and complies with the Electrical Appliances and Household Products Safety Management Act.
Bumyang Glove is a specialized development and distribution company for gloves, and is the only company specializing in total gloves in Korea that has dealt exclusively with gloves since its foundation in 1987. We are striving to develop designs and provide better products with strict quality control.