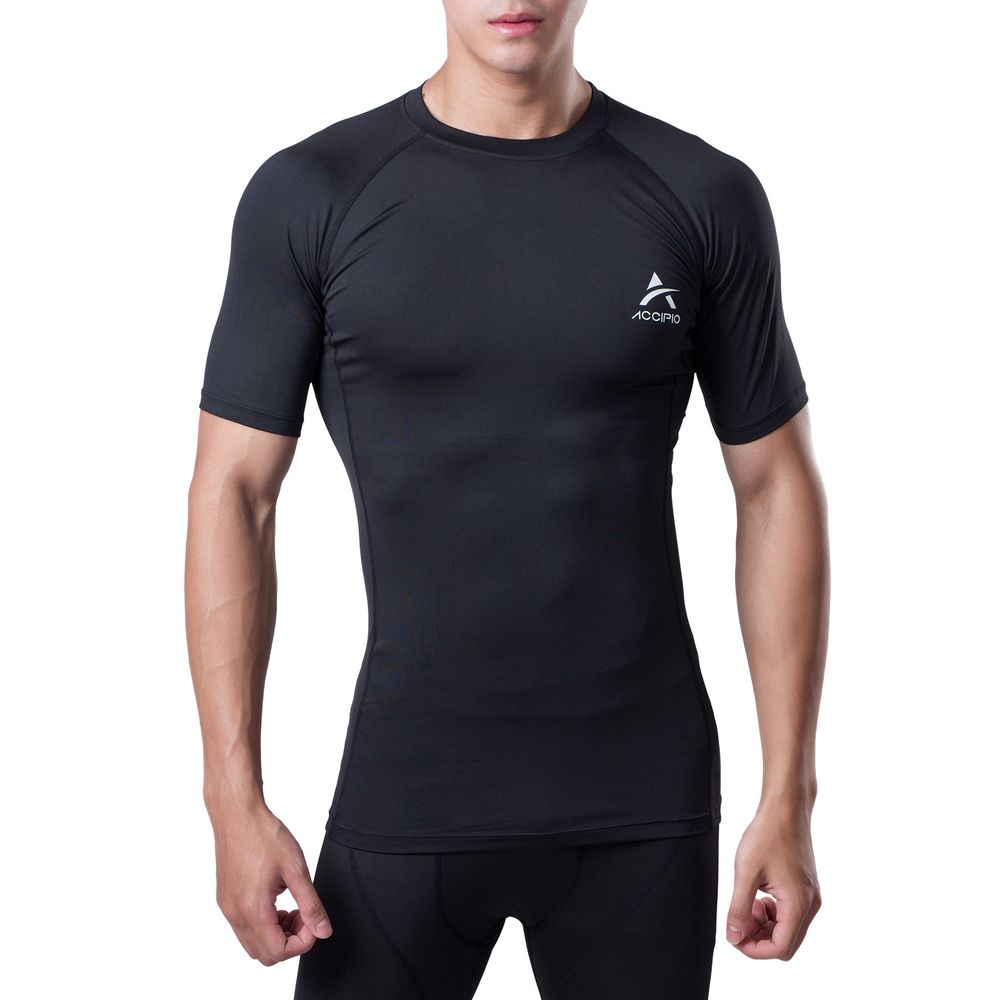 [ACCIPIO]Short Sleeve Compression Shirt for Men Moisture Wicking Base Layer Running Active Cool Dry Fitness Workout T-Shirt.
Negotiable (specific conditions to required)
House Brand available (OEM, ODM, OBM)
Dropshipping available
---
Seller information

ACCIPIO
Australia
Premium Partner
Product Description
 ·【pants Not Included 】

·
【
Targeted Compression and Performance
】
These cool dry workout short sleeve t-shirt boast a 4-way stretch with polyester/spandex fabric that help enhance circulation, increase stamina and endurance, and support running, cycling, and movement.
·【Cool, Breathable Comfort 】

A training shirt men can rely on these compression sport t-shirt also help reduce joint and muscle inflammation so your body can recovery faster after tough workouts
in the gym, weight lifting, or playing sports.
·【Quick-Dry, Moisture-Wicking Fabric】

The ideal men's workout t-shirt for active athletes, hikers, or even Yoga our compression top for men wick away sweat and moisture to reduce skin irritation and odours.
·【Year-Round, All-Weather Wear】

ACCIPIO base layers can be worn under short shirts , sweats or by themselves to provide you more support when you're playing soccer, basketball, baseball, powerlifting, riding a bike, skiing, and much more.
·【Comfortable Sizing Options】

Our exclusive compression sport short shirt comes in a variety of different sizes to meet the needs of men everywhere. They're also machine washable and offer long-lasting flexibility to keep you going strong.
Enhance your weight training, long-distance running, and overall fitness levels by better supporting your upper body with sports compression short sleeve t-shirt from ACCIPIO.
When you live an active lifestyle, be it in the gym or out hiking your favourite trails, you need the right gear to keep your muscles and joints
strong during the workout and recovering faster when you finish. We developed developed ACCIPIO Compression Base Layer short Sleeve Shirt as a
way to get that support when you need it most by offering targeted compression to relieve pain, improve circulation, and better
support your running, lifting, and active movements.
Woven with a premium blend of polyester and spandex these all-purpose, flexible short sleeve top offer form-fitting support and a 4-way
stretch to optimize your physical activity. More importantly, they wick away sweat, dry quickly, and keep you cool when the workouts get
hard, the weights get heavy, and you've got one more mile to go.
Product Details:
· Men's Workout short Shirt
· Comfortable 4-Way Stretch Fit
· Quick Dry, Moisture-Wicking Fabric
· Polyester (84%) and Spandex (16%)
· Advanced Compression to Reduce Inflammation
· Supports Runners, Cyclists, Weightlifters, and Athletes
· Machine Washable (Tumble Low)
· Available in Multiple Men's Sizes
Get these high-quality men's compression shirts by clicking Add to Cart above and take your fitness and recovery to the next level.
BBK11
BNB11
BNN11
BNW11
NNR11
NVY11
RNB11
WNN11
YNB11