[PURUNE FOOD] Squid stir-fry seasoning sauce 120g_spicy seasoning, stir-fried squid, sharp seasoning, stir-fried food sauce_Made in Korea
Negotiable (specific conditions to required)
House Brand available (OEM, ODM, OBM)
Dropshipping available
---
Seller information

푸른식품
South Korea
Premium Partner
Product Description
squid stir-fry seasoning sauce 120g
- PURUNE FOOD Squid Stir-Fry Seasoning Sauce features a unique seasoning that sweetly emphasizes the savory flavor of fresh squid, giving it a rich flavor.
- Maximize the juiciness and flavor of the squid to provide the authentic taste of stir-fry.
- PURUNE FOOD Stir-fried Squid Seasoning Sauce is a combination of spicy and fresh spices that helps you feel the flavor of the squid evenly.
- It is a good choice to easily enjoy the taste and aroma of special dishes that can be felt in the store at home.
- PURUNE FOOD stir-fried squid seasoning sauce adds to the authentic flavor and depth of flavor of the spicy stir-fry.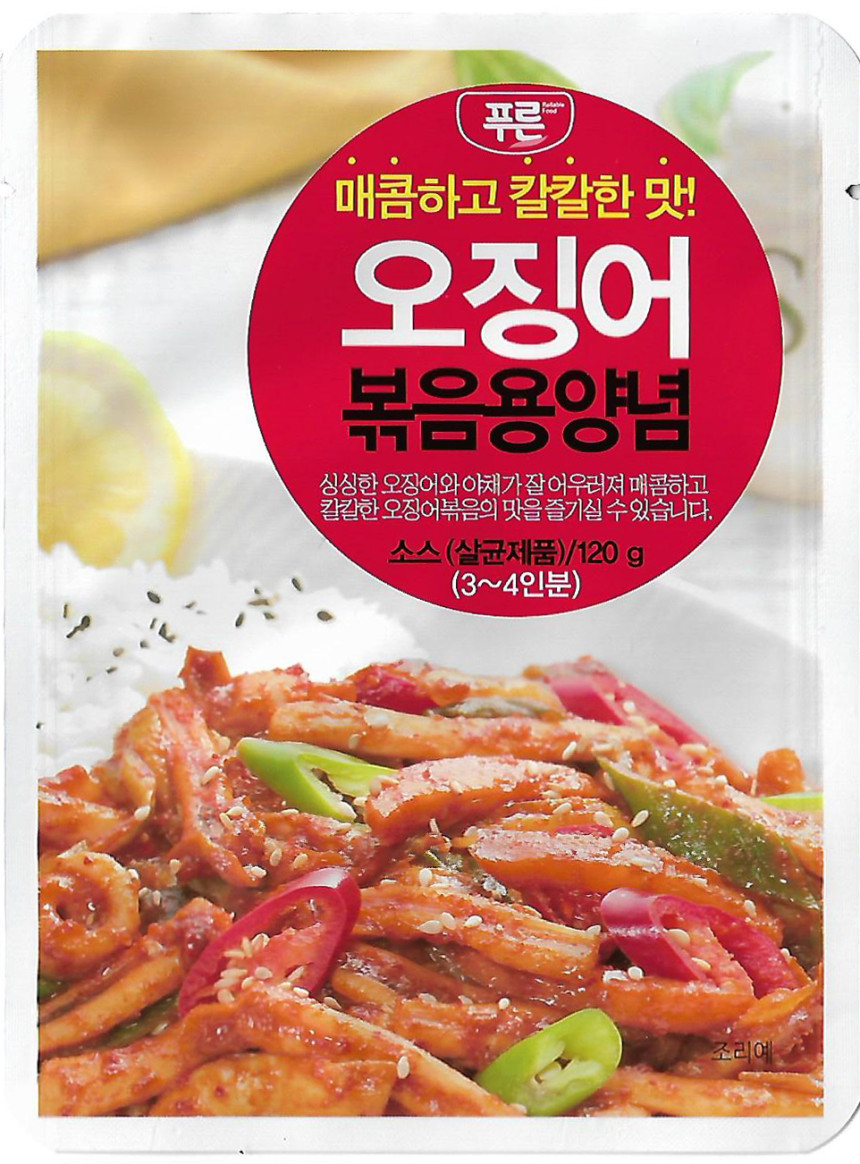 PURUNE FOOD stir-fried squid seasoning
1 pack of 120g in single packaging
Fry the trimmed squid a little over high heat, then add the vegetables and spices and stir-fry to mix evenly.
| | |
| --- | --- |
| Product | Seasoning for stir-fry squid |
| Contents | 120g |
| Product Type | Sauce (sterilized product) |
| Ingredient Name | Gochujang [starch syrup, wheat flour (wheat: made in the United States, Australia), chili seasoning (wheat rice from China), mixed fine powder], starch syrup, onion (domestic), other fructose, sodium L-glutamate (flavor enhancer), alcohol], other fructose, red pepper seasoning (made in China) (red pepper powder, refined salt, garlic, onion], complex seasoning food, sugar, sauce, garlic, fermented vinegar, flavored oil, ginger, alcohol, red pepper powder, stir-fried sesame seeds, oleoresin paprika, pyraoxybenzoic sin ethyl (preservative) |
| Shelf life | Until the date of separate notation |
| Storage and handling method | Store at room temperature away from direct sunlight (refrigerate after opening) |
| Manufacturer | PURUNE FOOD Co., Ltd. / Incheon Ganghwa County Bueun-myeon Goryeong-ro 300 (032-881-5104) |